In most Italian cities you will have observed that they are divided in Quartiers. However, in a few Venice being the most notable example, there are six areas, hence the name 'Sestieri'.
Each one used to be controlled by a different Tax Collector, and still to this day they abide by their own numbering system, which is why I have so much respect for the Postmen in Venice.
Curiosity: The six fingers of the ferro on the bow of a gondola represent the six sestieri.
SANTA CROCE
SAN POLO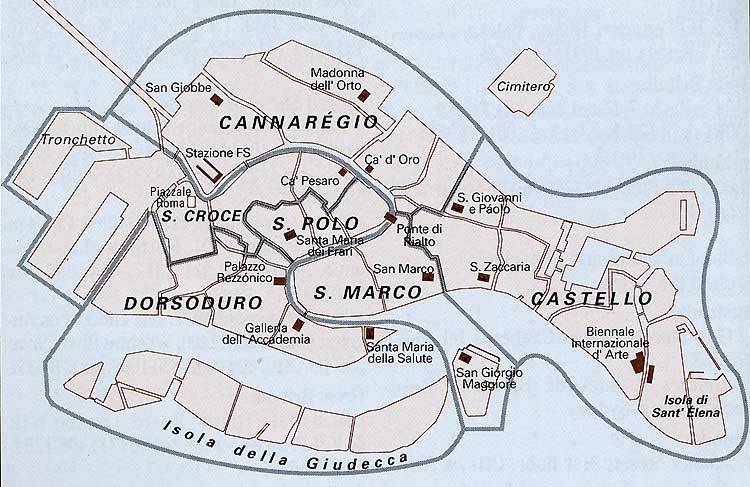 The difference between these areas from the outside can seem little more than a name or an inconvenience. However, when you ask any local they will proudly announce that they are from Castello, or Dorsoduro etc. and that they can even recognize the accents/dialects from each area. Despite being separated by little more than a few bridges, each sestieri indeed has its own 'anima' (spirit). This is undoubtedly due to a variety of factors, largely geographic location. However, how this evolved to impact also the dialect, is a mystery to me. I, with an untrained ear, have to admit to being oblivious to this subtle change in phonetics, but they (Venetians) assure me that it exists, proudly.
So whilst, I cannot go into more depth on the varying dialects I can give a brief outline of the characteristics of each Sestiere, what you are likely to find and our favorites spots. Considering there is so much to say I am going to divide these explorations over a few posts. But I will start with Santa Croce (Sacred Cross)…
As mentioned before, the geological positioning makes a big difference to the atmosphere of an area. This, inturn influences the type of businesses that are attracted and are prosperous, and the cycle continues. Santa Croce is the most common point of arrival for most visiting tourists, whether coming by airport bus, car, bike or foot. Having crossed the Ponte Della Liberta you will arrive into Piazzale Roma and the swirl of the cities movements.
This vicinity to the outside world gives Santa Croce an air of modernity and natural energy that is slightly out of sync with the rest of Venice. However, one zigzag off the main street or under one of the ridiculously low sotteportegos, and you will be met with a striking tranquility. It is this juxtaposition that is interesting as if there is a need for balance. The busy car concentrated Piazzale Roma is equilibrated by the peace and quiet of the hidden daily streets. One such Campo, which generally attracts only families and locals rather than tourists, is called Campo San Giacomo Dell'Orio. There is even a small vegetable garden that is run by the community. In the surrounding area of this campo, you will find everything. Pasteccierias, Museums, Aperitivo stops, exceptional restaurants, and late night Tango. It mystifies me how this area is not more talked about, but its accessibility is its blessing and curse because, for those wanting to find the hidden streets of Venice, they often overlook or dismiss the treasures that are right in front of them. San Croce is also blessedly scarce in what guide books consider to be 'worthy sites', and grand monuments, which allows the natural beauty and irregularities of the city to take center stage.
Our advice: if you have been to Venice before, or have spent a few days diligently visiting many of the larger monuments, more cited locations, or wholesome churches… then take a break in Santa Croce. This unjudgemental sestiere is unperturbed by tourism and is a brilliant way to observe Venetian life as it is today. Just by sitting and noticing the people that go by you will see a wonderfully eclectic mix. Pensioners, students, children and chefs, all with their own agendas, but happily luxuriating in the slow pace that can be found between Piazzale Roma and Rialto Mercato.
Bars:
Osteria di Filo. (Poppa), live music on Wednesdays
Bacareto da Lele (Campo dei Tolentini 183), 80 cent Ombras and closes early.
Restaurants:
Museums
Natural History Museum at Fondaco Dei Turchi (great for children)
More churches to be found here