The Sestiere of San Marco is the oldest, most famous, and unfortunately most touristy. For all these reasons it is the most difficult to really know because the surface layer has become so saturated that finding the real character through all the crowds can be challenging. However, it is well worth persevering, because within all this is yet another side to Venice.
Once known for its fashion, extravagant parties, wonderful Operas and beautiful people, Venice led the way in so many things, and much of this originated in San Marco.
It is actually much bigger than we think, not to say that it is by any means the largest in terms of physical distances, but the sheer quantity of extraordinary places that come within the Sestiere boundaries, often come as a surprise. This is perhaps because when we first think of San Marco itself, two main places come to mind, the Piazza and the Basilica, casting the rest into a slight shadow. Whatever the reason, this brief introduction to the famous Sestiere is going to assume certain previous knowledge from your part about a few places and instead focus on the others, the ones in the shadow.
Partly located in what we can call more or less the heart of Venice, San Marco, stretches from the Accademia bridge all the way up to Rialto and outwards towards Castello. It is sculpted by the curve of the Grand Canal on two sides and the third looks out over the Bacino di San Marco. This frontier would have been the first sight that ships arriving after months at sea would have seen. Therefore, the façades that looked onto the water were grand even for Venetian standards. Something of this mentality has remained even today (although more often than not people arrive by train or plane). As you walk through San Marco, you will find that there is not really a 'back alley' atmosphere, it is made much more of wider streets that feel as if they were made to promenade through, and to be seen.
Fashion: The Venetians had their own fashion, mastering elegance with a slight twist that came about through an eye for practicality. However, you may also have noticed that there are not as many shops for clothes as one might expect. If you have been disappointed by this so far, then you will find the highest concentration of international shops in the San Marco area and also a strong contingency of Artisanal Ateliers. (Follow this link to find our selected list of local artisans).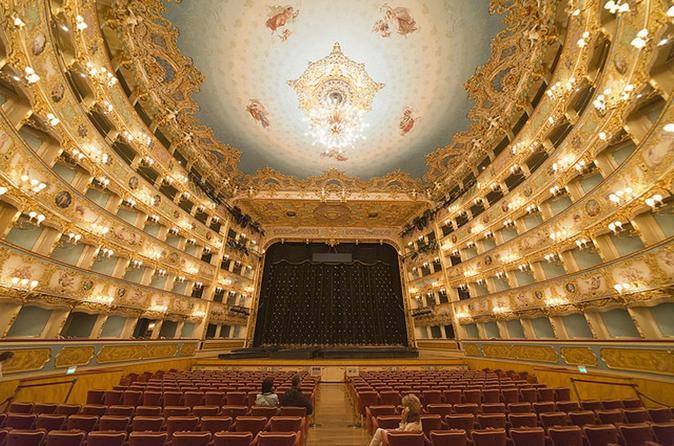 Theatre: Whilst I am determined to dedicate a whole other article to this topic, it is impossible to discuss San Marco without also mentioning LA FENICE. Having witnessed some of the most storic musical events, it continues to awe, shock and inspire those who attend the performances, attempting to bridge the difficult gap between traditional and contemporary music.
Two small tips: A small retreat…
of green hidden in plain sight. Between Piazza San Marco, and the traditional Salt Stores, lies the Old Royal Gardens that once belonged to Napoleons Palaces. They are often overlooked because it is the last thing you would expect, but it offers a welcome break to sit and recharge. The entrance looks out over the water and there is remarkable difference in the sense of a calm within the park in comparison to the stream of people just two steps away.
Taking your time...
Whilst I said I would skim over Piazza San Marco and the Basilica I think there is one point worth mentioning. If at all possible, walk through the Piazza at 07.am (or earlier if you can manage it) or else at 23.00. At these times, there are very few people and you can appreciate the true marvel of what was achieved, occasionally I find myself walking home this way, or taking extravagant routes to make this happen, and every single time I am forced to stop, or at least slow right down. This is the way in which San Marco should be seen.
~To Eat~
(Lunch/Dinner)
Aciugeta
Wildners
Local
Giardino
Maschereta
Rosso Pomodoro
Basara (sushi)
~ A small bite ~
Pasticceria da Bonifico (Pizzette)
Rosa Salva
~ To Drink ~
Fiori
L'Avena
Harrys Bar
L'Ombra Del Leone