I have to admit to being shamefully disinterested in this part of the world before quite recently. Assuming ignorantly, that it was a place for beach-goers only. I now realize that I knew very little of the fantastic restaurants, cycle paths, galleries, and quiet oasis that is the Lido.
However, since learning how wrong I was, I have had a weakness for it in the early summer mornings, when it is the perfect place for a run. Everything seems like the set of a Wes Anderson movie, which can only be a good thing in my eyes.
What Makes Venice's Lido Unique?
This thin strip of Island that looks bravely out towards the Adriatic Sea is a stubbornly independent neighbor to Venice Historic Center. Despite its vicinity it has always chosen its own style and way of doing things. It was once the recluse of the wealthy Venetians looking for modern infrastructure and spacious gardens and still today it offers this, although it is not esteemed for this reason as much as it once was.
Having said all this, what I love most about Lido is that it is almost impossible to pigeon-hole. Just as you are about to pin it as a lazy beach town, the film festival comes along and once again you reminded just how elegant it can be. So let's just say this- the worst thing you could do is think that you have seen it all.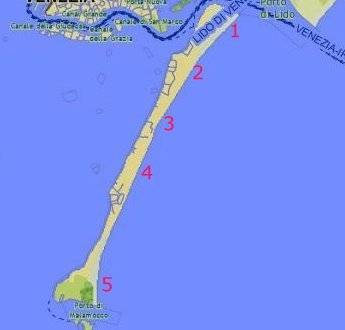 Buzzing hubs for summer evenings, elegant roof top bars reminiscent of the 50's, public beaches and hidden oasis'. It really is in the summer when it comes into its own. However, even in the winter with crisp blue sky, the space and tranquility, which Lido has it is essential to happiness in Venice.
I will not discuss the history in this post but instead, save that for another time, and for now just tell you where you can find the best beaches and food during your stay.
The Beaches
Despite my complaints earlier, one of the major reasons most people come to Lido in the summer is undeniably the beaches, which are obviously a non existent feature in the city center and offer a welcome breeze.
Depending on your preferences, the long strip of beach facing the Adriatico, is divided into both private and public areas. The benefits of the private beach are obviously the reduced crowds and access to beach huts, if you would like to spend most of the day here, we would suggest the elegant Hotel Excelsior Beach. Here you will see the old cinema style, and an elegance that is hard to justify with words. Finish your day with a cocktail here and imagine all the stories this legendary hotel has witnessed.
As for public beaches, there is never too much difficulty in finding space for yourself if you make the effort to walk away from the obvious "hot spots"… and the water is all the same wherever you go. So your choices are: either head towards, San Nicelli beach or in the opposite direction towards Murazzi, Malamocco and Alberoni.
*One issue I have been warned of is the presence of jellyfish. Especially in the afternoons. Now they are only small, and will not do any harm but it is better to be aware that that's what they are.*
Beaches to Visit:
Alberoni, which is either a 40 minute walk or else a 10 minute bus journey from the Vaporetto stop Santa Maria Elisabetta, is renowned for its beautiful sand dunes. This is when renting a bike is a good idea.
Or Malamoco, which is popular amongst young Venetians who build beach houses here from drift wood and anything else they can get their hands on. This is also great, because it gives you the chance to walk around the small town and take in the peace and quiet whilst still
In the other direction is the tiny San Nicceli Airport. Here there are often parties but during they daytime it is nice area just to cycle around, taking advantage of the quiet roads, and adventurous vines.
You will also come across the Faro, the Lighthouse and the area that was originally intended to protect the wildlife of this area.
Where to eat:
Giardinetto Grill (Dinner)
Address: P.le S. M. Elisabetta 3, 30126, Lido di Venezia
Right infront of the vaporetto stop, it is renowned for its fantastic meat.
L'Essentiale (Apertivo/Dinner)
A smarter but still 'Lido' relaxed bar/ restaurant with a fantastic view and wonderful service.
Deffinitely worth stopping here for an aperitivo.
EL Pecador (Lunch)
Lungomare D'Annunzio, 30100 Venezia Lido
An English treasure, an old route master bus converted into a burger van.
Very popular with students but in reality to everyone loves it! Small seating area on the top floor and fun music.
Bio Sound System (Lunch)
Via Doge Michiel, 2/c, 30100 Lido VE
The best place for vegetarian options, with specials for vegans also.
Murazzi
Ai Murazzi (Lunch)
This is a perfect lunch place for a lazy sunday. It looks out over the quiet beach of Murazzi, but it is slightly smarter than your typical beach side bar. The food is principally typical Venetian specialities, such as antipasti di pesce.
Well worth the walk, and in winter its wooden structure gives a sense of cosiness.
Malamocco
Trattoria al Ponte di Borgo (Lunch/ Dinner)
Calle Mercerie, Malamocco
Phone: +39 041 770090
There is something so wonderfully familar about this place that time flies when you are here. It is the perfect place to come on a summers day, hidden enough to give you a sense of satisfaction when you find it. However, the food is always fresh and traditional, and so it is worth booking in advance. Great place to stop on the way back from Alberoni.
Trattoria Locanda da Scarso (Lunch / Dinner)
Malamocco, 4
30126
Very traditional cuisine, with two rooms. The one closest to the entrance is slightly more casual. The antipasto di pesce is worth travelling miles for and the staff and owner are trully lovely
Simple Beach itinerary:
(advised for families with very small children or people with less time)
If you are looking for just a patch of sun to lie in, then the simplest option is to take the vaporetto (5.1) from Venice to Santa Maria Elisabetta, upon getting off, walk straight down the main road until you come to the roundabout, and you will be at the entrance to the (free) beach. As lunch draws near we would recommend, coming back to this roundabout and, with the sea to your back, turning right and walking the 100 meters towards the famous double-decker bus that serves a selection of burgers. Perfect for the whole family.
On your return for the vaporetto, perhaps stop off at the fish market for an apertivo, where you can try some fantastic cichetti, and enjoy the last of the sun in a buzzing atmosphere.
More action/ peace and quiet/ fine dining… This is what we would recommend:
Depending on how early you want to arrive, either have breakfast at home, or at one of the fantastic pasticcerias on the Lido.
After this head down the road slightly to a place where you will see bikes parked outside. Here you can rent by the hour but remember – Italians drive on the left. Follow the large road down until you reach the roundabout and follow it round to the right. You are now going to cycle more or less straight for 20 minutes more or less, take it easy and stop whenever you like. The road is flat and easy going so it is suitable for all ages.
Bus: Another option is to take the bus A, going towards Alberoni, and ask the bus driver to let you know when to get off.
This is the direction Murazzo, Malamocco, Alberoni and Palestrina. and even eventually Chioggia..
Once you have crossed the bridge and arrived at Malamocco, head down to the beach, which is practically deserted with a few huts built by young Venetians, and fellow cyclists.
By midday on a warm day, the sea is lovely, and it is the perfect way to cool after your cycle ride. Besides, you know lunch is just around the corner. You can have a shower for a small cost just behind the chiosk.
Alternatively, if you don't feel like swimming there is plenty of history to enjoy around Malamocco, as it was the first place that was inhabited on the entire lido.
For lunch or dinner we would highly recommend both Scarso and Ponte De Borgo.