A brief history of one of the four famous bridges in Venice
Can you imagine what it would be like if there was only one bridge to cross along the Grand Canal in Venice
For 300 years, this was the case because local residents had only the Rialto bridge and private boats for common transportation. However, when the Austrians gained power over Venice for the second time (following the defeat of Napoleon), they made several crucial changes in addition to those made by Napoleon himself. One of them was the construction of two more bridges at opposite ends of the Grand Canal in Venice; Ponte dell' Accademia (The Accademia Bridge) and Ponte degli Scalzi.
The Beginning of Accademia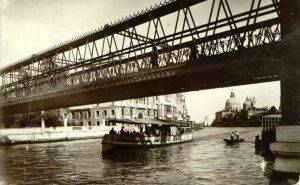 When Alfred Neville (English) was originally commissioned to design the landmark bridge in 1852, it was created from steel and did not have the characteristic arch that we see today. Unfortunately, the original design was not so attractive to the eye and also not well-conceived. Just over 50 years after its construction, the bridge was showing serious signs of erosion and ionization. To make matters worse, the newly instated Vaporetto transports were unable to pass underneath it along Venice's Grand Canal. As a result, new architectural plans were asked to be drawn up for the bridge.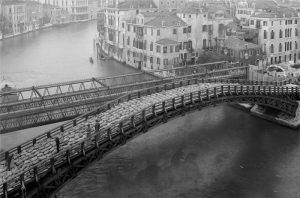 In 1933, Eugenio Miozziwas given the task of creating a temporary bridge of wood while plans were prepared for a more permanent one made out of stone. It was swiftly proposed, accepted and built in only 37 days. Of course, it had to be built alongside the present bridge so as to not disrupt the daily lives of the Venetians. As it turns out, despite the popular demand for stone, the now-famous bridge was incredibly successful. In fact, it remained this way all the way up until renovations in 1986, when steel arches were added to assist with durability. Although wood is obviously susceptible to fire, it is also a material that adapts well to the constantly changing climate that includes humidity, salt in the air, and seawater in the Grand Canal.
The Bridge as we know it today
…is, aesthetically speaking, the same as it was in 1986. Better yet, it recently completed an intensive renovation thanks to the Luxottica Group who financed the endeavor. For this reason, if you were to visit Venice in the future and traverse the Accademia bridge, you can expect to see the same rustic beauty and jaw-dropping views over Venice's Grand Canal and waterside restaurants that once brought it to such popularity nearly 100 years ago.
Do's and Dont's
As with many famous bridges worldwide, lovers have taken to adding lockets inscribed with their names or initials onto the railings as a sign of their everlasting affection for one another. I have never personally understood this tradition, however the police and most locals will ask you to kindly refrain from doing so, as this causes problems for maintenance and weight issues on the structure.
As it pertains to photos, the Accademia bridge is one of the most photogenic spots along the Grand Canal in Venice. It's frequented by professional photographers and artists alike early in the morning or late at night. *
Try to be aware of others around you as they cross this landmark bridge. This is to say that standing in the middle of the walkway to take a picture as someone else attempts to move about their day could very well cause irritation, understandably so.
We hope that you think back on this fun bit of history as you stroll along the Accademia, one of the four famous bridges in Venice, during your next trip to this majestic ancient city!