The Changing Steps of The Accademia Bridge

Can you imagine what it would be like if there was only one bridge to cross the Grand Canal?
For three hundred years this was the case. When there was only the Rialto bridge and private boats were far more common. However, when the Austrians took over for the second time following the defeat of Napoleon they made several crucial changes in addition to those made by Napoleon himself. One of them was the construction of two more bridges at opposite ends of the Grand Canal; Ponte dell' Accademia (The Accademia Bridge) and Ponte degli Scalzi.
The Beginning(s)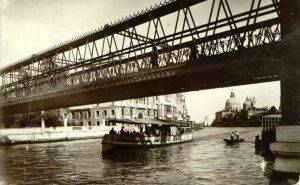 Alfred Neville (English) was originally commissioned to design the bridge in1852, it was created from steel and did not have the characteristic arch that we see today. Less attractive to look at and (thank fully) as it turns out, it was less adapt to its purpose. Shortly after its construction, just over 50 years it was showing serious signs of erosion and ionisation, and the newly instated Vaporetto transport were unable to pass underneath it. And thus new plans needed to be drawn up.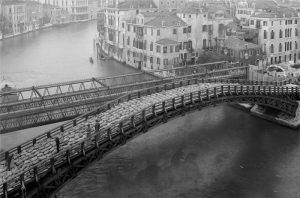 So, in 1933 Eugenio Miozzi, was given the task of creating a temporary bridge, whilst plans were prepared for a more permanent stone one. It was swiftly proposed, accepted and built in only 37 days and of course it had to be built alongside the present bridge so as to not disrupt the daily lives of the Venetians. But as it turns out, despite the popular demand for stone, the bridge was so successful that it has remained this way all the way up until renovations in 1986, when steel arches were inserted instead of the traditional arches.
Although wood is obviously susceptible to fire it is also a material that adapts well to the constantly changing humidity, salt in the air and water. It needs restoration but it has enough movement in it to work well with the difficult venetian climate. This is not to say that it will last forever like the wooden pillars that support the whole city, because given that this wood is not submersed in water, it is exposed to oxygen and decay.
The Bridge as we know it today
…is the same since 1986. Strictly speaking, Now what you will see if you cross the Accademia, is very little. This is of course due to the latest construction that has been going on for the last 5 months. But this necessary work will undoubtedly pay off in the end.
Rumours have it that they may finally been constructing the stone bridge that was so wanted over 50 years ago. However, the whole undertaking has been made possible financially by the internationally known sunglasses company, Luxottica Group. .
Do's and Dont's
As with many famous bridges worldwide, lovers have taken to adding lockets with their names on to the railings as a sign of their affection for one another. I have never personally understood this tradition, however the police and most people who stop to think about it will ask you Kindly to refrain from doing this because it only causes problems for the maintenance.
Whereas for photos, it is one of the most photogenic spots in Venice. Often frequented by professional photographers and artists alike early in the morning or late at night. *
(*Try to be aware of the others crossing the bridge around you)
Whilst it may be disappointing if you were looking forward to seeing the bridge itself during your stay in Venice, you can always come back or else take comfort in the fact that this restoration will ensure its future for years to come.