TWELVE RESTAURANTS, ONE COMMON VISION

Associazione dei Ristoranti della Buona Accoglienza
Venice and food is a difficult terrain for many visitors to navigate. There is so much advice out there before you even arrive, and so many false promises and misconceptions that it can be exhausting simply thinking about having a meal.
However, the simple fact is that like any other place in the world..
Venice's terrain and history is unique and therefore so also is its traditional cuisine
It is not what you find so easily available, pizzas or pasta with pesto sauce. It is instead a fusion of flavours from far and wide transformed into Venetian dishes by creativity and neccessity.
Nowadays there are a few restaurants, that stand a cut above the rest, not only for the quality of service, food and overall experience but also for their integrity and loyalty to Venice and the Lagoon.
Al Covo, Al Gatto Nero, Alle Testiere, Antiche Carampane, Corte Sconta, Da Ignazio, Fiaschetteria Toscana, Il Nuovo Galeon, Il Ridotto, Vecio Fritolin, Vini Da Gigio, Wildner
The majority of these restaurants banded together over twenty years ago to reinforce this shared vision. They do not publicise their allegiance loudly but they slowly, and consistently provide the best quality food using the local ingredients thereby preserving and bringing forward the Venetian kitchen.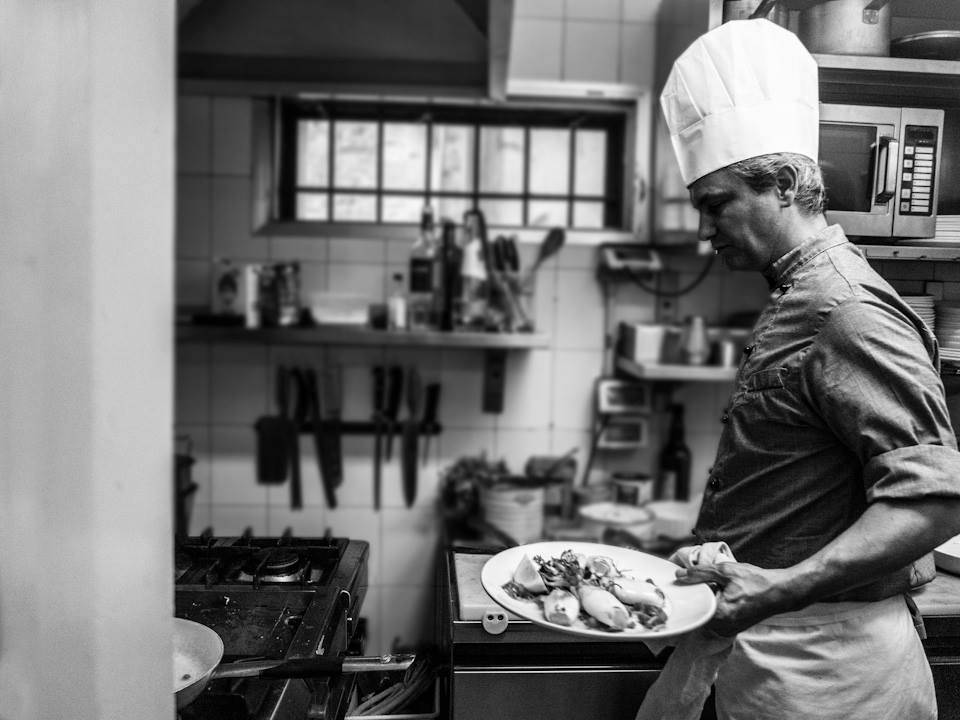 They are prepared by extremely talented chefs who value the quality of the produce and understand the importance of this in creating the best possible dishes. Informing themselves on historical techniques but also experimenting with their own knowledge.
Typically the menu serves a combination of traditional Venetian dishes and some experimental creations of the chefs. However, always you will find that the menu changes with the season and rarely you will find the same thing twice.
Being part of this group is almost like having had to face an ethics board. Not only are their standards of a similar outstanding quality but also their philosophies. For this reason you can be sure that which ever one you choose to visit will not disappoint. These restaurants are not trying to be exclusive or intimidating in their appoach to hospitality but actually quite the opposite, they want to invite everyone to recognise and learn about the local flavours.
Where else will you get the chance to try 'sea asparagus'?
Venetian flavours owe a lot to foreign travel and so for this reason you will often see cinnamon, nutmeg and other exotic spices that may seem out of place in the north of italy. But are actually a reminder of Venice maratime adventures and trade routes.
When travelling to a new place we should always to the best of our abilities try the local cuisines, those flavours that exist only there. And whilst it is easy to find a spritz or prosecco, it can be harder to to find a well made seppia nero, a Fishermans soup, or a Broetto. (find recipe below)
If you are interested in trying something slightly more trying but absolutely local then this is our challenge for you.
Take advantage of your Truly Venice Kitchen and the Rialto Market, or invite our Private Chefs to cook for you.
Ingredienti:
Ingredienti for 4 people: 1/2 kilo of seppia, 4 large scampi, 1 san pietro, 1 gurnard, 1 monkfish, 1 glass of white wine vinegar, 100 gr. of tomato puree.
Preparazione:
Heat a small glass of olive oil with the scampi cut into pieces. Add the sepia with two glasses of water and bring it to the boil for a few minutes. Half way through cooking add the san Pietro, the gurnard and the monkfish cut into fillets.
Ten minutes into the cooking, pour in a ladle full of vinegar, a pinch of pepper, salt and the tomato sauce. Serve with hot polenta, preferably white.
Cooking time: 1 hour and 30 minutes.
Suggestions: To be drunk with either a great white wine, but also acceptable to drink it with a comforting red.