Christmas in Venice: First thing's first!

Where should you stay?
Take a look at our rental properties! What distinguishes Truly Venice Apartments from any others is the combination of Venetian luxury while still fundamentally being a real home. This is felt in the small and sometimes imperfect details that cannot be fabricated. The telltale signs of a house that has hosted many memories allow you to relax and look forward to returning to your corner of the city after long days of exploring during Christmas in Venice.
There is no time of the year when having a cozy little abode is more important than in the biting cold days before Christmas. However, the real reason that we travel is to get out and discover new cultures and learn foreign traditions. Therefore, I will try to describe just some of the more easily adoptable or perhaps just visible curiosities. Indeed this will be helpful for those intrepid travelers who have chosen to spend their Christmas (wisely) in Venice. This is definitely not a complete list, but it consists of the most important few things you'll see ' in giro' exclusively at Christmas time.
Fish on Christmas Eve in Venice
While Italians have never been accused of leaving the table hungry, the reasoning behind traditionally eating fish (as opposed to meat or dairy) on Christmas Eve is said to be rooted in abstinence. The day before Christmas (and its large feast), Italians traditionally limit themselves to a variety of fish dishes for the cleansing quality. However, the word abstinence seems slightly futile when you realize that the fish dishes can be anything from 7-11 different plates.
What you can take away from this…
Why don't you, too, try experimenting with this concept? If you choose to cook at home (in your Truly Venice Apartment), we recommend taking advantage of the famous Rialto Market. Join along with the Italian families in abstaining from meat on Christmas eve. You can also choose our private catering services, and let us share with you the culinary traditions firsthand.
Alternatively, if you find yourself in a restaurant, you'll probably find that the fish (possibly plural) of the day are most definitely a traditional recipe and therefore worth trying.
The Fog / La Nebbia
You inevitably will have been forewarned about this moody temperament that Venice adopts in these days. It's difficult to really do it justice, however. Whether you have read about it in slightly more poetic prose or heard it generally from a friend, perhaps using slightly more colorful language, the fog is unavoidable. Either way, be prepared that it is deceptive in more ways than one. It can cause disorientation and a sudden decrease in temperature. This, of course, is all just part of the charm of Venice! But do check ahead for Vaporetto alterations and take a jacket with you. Additionally, it can also be handy to download one of these apps beforehand.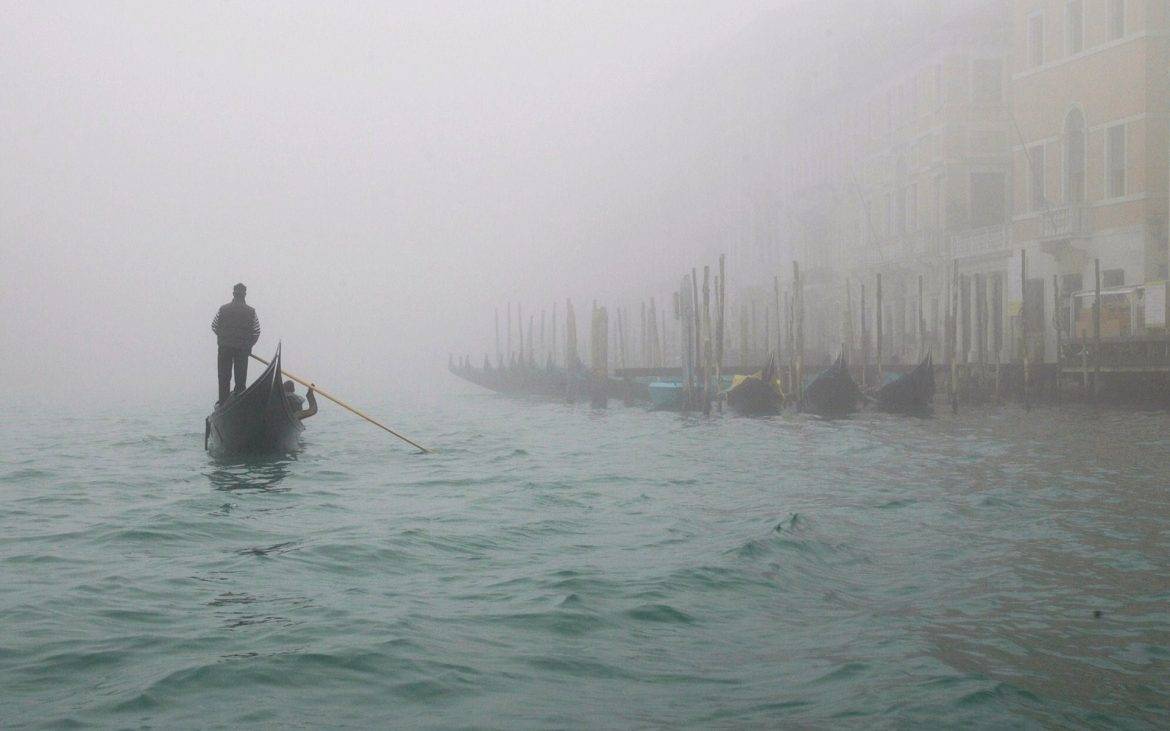 Panettone or Pandoro
While neither is traditionally from Venice itself, Panettone (from Milan) and Pandoro (from Verona) have been adopted all over Italy. They've even become a familiar winter treat in other parts of the world, too. Once you have tasted the traditional recipes, though, you can well understand how even some of the most authentic families have made room for these Italian dolci on their tables.
Panetonne, is famous for its laborious three rise process, leading to an incredibly light texture despite the unspeakable amounts of butter. Pandoro, on the other hand, is literally called "Pane'oro" or Gold Bread and has been associated with Venetian Aristocracy since the 18th Century. The texture of this is very unique when made well and typically takes the form of a star. The most noticeable difference (and probably the one influencing your decision of which to eat) is that Panettone contains dried fruits, whereas Pandoro is normally without anything. You will find both easily at Pasticerrias (such as Tonolo) around Venice. More importantly, there is no shame to have this as a breakfast treat! In fact, it's encouraged.
Merry Christmas,
From The Truly Venice Apartments Team