The name 'La Fenice' has become synonymous with the word music.
Not only music, but culture, art, beauty, history, ballet, decadence, romance and much more. It is world-renowned and chances are that you will have heard of it before planning your trip to Venice. For this reason I am not going to talk today in great depth about the history and architecture or the great artists and composers who have walked these boards (of which there have been countless) but instead …announce the start of a new season.
'La Fenice Opera House presents the 2016-2017 Opera and Ballet season, which will offer thirteen new productions including one experimental opera composition, two opera plays for children, a classical ballet and one contemporary dance recital, eight previous productions to be repeated, for a total twenty-four titles and over one hundred and thirty performances.' (official press release La Fenice Opera House)
Follow this link for the full list of dates and tickets available.
This seasons productions have been carefully selected to breach new boundaries, attract a larger audience whilst maintaining the standard of excellence which La Fenice is rightly so proud of. In particular this year there is a focus on making it more accessible to children. Two performances 'Romeo and Julliet' and 'The pay rise' have been included to encourage younger audiences. For more experienced Opera goers there is the chance to rediscover composers such as Francesco Cilea and his first ever piece "Gina", conducted by Francesco Lanzillotta and directed by Bepi Morassi.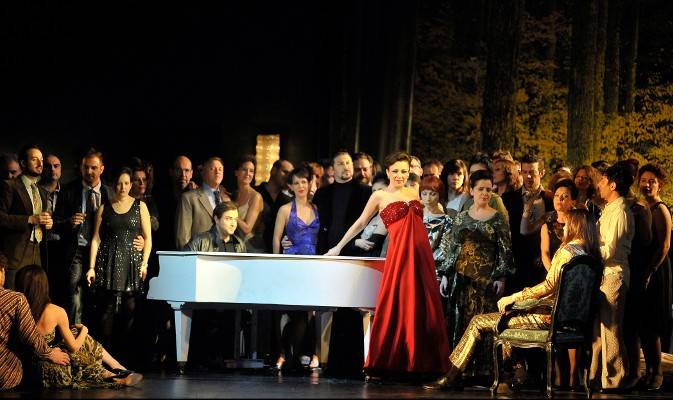 More specifically still, the grand opening, which was on November 4th was aligned with the 50th anniversary of the highest flood in Venice's history, recorded at 194cm. In memory of this Philip Perocco created 'Aquagrande'. A monumental combination of creativity and technological ambition which has amounted to an extremely memorably production. Despite receiving mixed reviews since opening, for those who are interested in something completely new this is highly recommended. This production embodies so much of what makes La Fenice so admirable as an institution; respecting the past whilst making connections to the present via music and dance.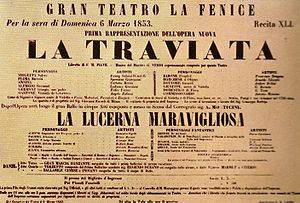 As far a Romantic opera, La Fenice has an epic history of launching many of the most famous romances of all time, La Traviata (1853) for one. However, this season will see "Lucia di Lammermoor" by Gaetano Donizetti, with a libretto by Salvadore Cammarano. Directed by Francesco Micheli and conducted by Riccardo Frizza, the principle roles will involve Nadine Sierra and Francesco Demuro.
Constructed in 1792 it became very quickly recognised all over the world for its musical excellence, and played a large role in bringing the attention back to Venice. It quickly became something of a world heritage site. So much so that when a devastating fire in 1996 saw the complete demise of the building, money from all corners of the globe came to the aid of its reconstruction. Such is the power and importance of music.
Since then it has been restored to all its gilded beauty. Relatively small in size compared to its collosal reputation, the interior is lit by chandeliers enhancing the richness of the gold against the red velvet chairs. Undoubtedly this enhances the whole experience, perhaps making us sit up straighter, pay more attention, and expect greatness.
The Fenice or the Malibran…
Of the twenty-four titles of this season, seventeen will be staged at La Fenice Opera House. As for "Gina" by Francesco Cilea, the show of "Parsons Dance Company", the diptych composed of "Cephalus and Procris" by Ernst Krenek and "The tale of Orpheus" of Alfredo Casella, as well as the two events for young people "The pay rise" of Luciano Chailly and "Romeo and Juliet" by Nicola Antonio Zingarelli, will be staged at the Malibran Theatre.